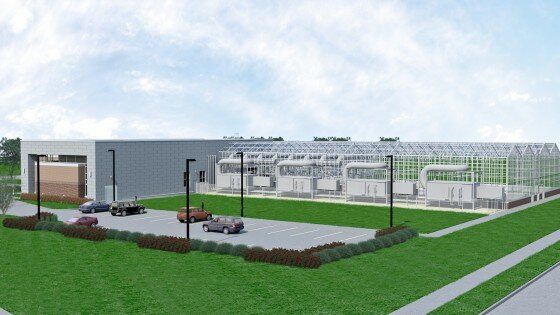 It's not fully completed yet, but when it is, it'll be a masterpiece. The Nebraska Innovation Campus is a research campus adjacent to the University of Nebraska-Lincoln, and houses the spaces and facilities to foster ideas into innovation.
Part of the goal is to facilitate more relationships, and partnerships, between the University of Nebraska and private sector businesses in the area.
However, part of it is to make a building that can be the most sustainable research and technology campus not just in the Midwest, but in the entire United States.
This is a massive endeavor, as you can imagine, and when it's fully completed, it'll be a 2.2 million square foot campus with uniquely designed buildings and amenities that encourage people to create and transform. This is manifested in several different ways and with different studio spaces. There's the food innovation center, the greenhouse innovation center, a conference center, and more.
An important space is the Nebraska Innovation Studio, 16,000 square feet of space for makers, dreamers, and inventors. It has a 3D printer, woodworking materials, metalworking materials, welding tools, sewing tools, screen printing, robotics, and more. The vision is ultimately to have up to 5,000 people "working, living, and playing in uniquely designed buildings of quality construction that promote positive energy, foster interaction and collaboration, and stimulate ideas, sustainability, and innovation. Amenities will be provided that benefit those working on campus."
Recently, this was helped significantly when a Lincoln-based firm gave a $200,000 grant to help furnish the Nebraska Innovation Studio. "This is a significant gift for us and really changes the trajectory of our plans for Innovation Studio," said Shane Farritor, professor of mechanical and materials engineering and faculty adviser to the UNL Maker Club. "This support will also have a huge impact on our students, who will benefit most from this maker space."
The first class ever was taught in the studio this spring semester by Shane Farritor, PhD and Liana Owad, MFA. "Making for Innovation" covered techniques used to bring ideas to reality, based on hands-on problem solving, creative thinking, and working with the boundary between the humanities and technology. The course focuses on constructing a project each week, working through projects like Introduction to Computer Aided Design, 3D scanning and printing, mold making, fabrication with textiles, electronics production and microcontrollers, mechanical design, machine design, and more. Size was limited, but hopefully this will be the first of many, many classes offered for students interested in learning how to work in dynamic, hands-on fields.
Centers like these around Nebraska will help make a huge difference in how prepared students are for technical jobs, skilled careers, and more. If you'd like to explore partnership opportunities with the NIC, click here.
Questions? Comments? Want to learn more about the center? Send us a tweet or leave a comment in the section below, anytime!
—
photo credit: Tetradpropertygroup.com