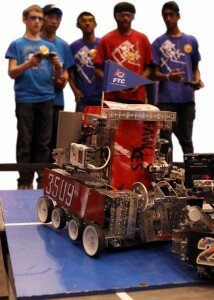 When most kids and teens think about what jazzes them, what excites them, what makes them eager to wake up in the morning, the answer is rarely "math class!" or "science class!" With the exception of a rare, small, subsection of students, math and science are more often thought of as boring or tedious. Times tables, long division and more contribute to how students think about STEM.
This is a problem, though. Today's age requires that new generations of students do find their joy and passion in the STEM careers, or at least understand their value and potential to provide fulfilling lives. For manufacturers, engineers, technicians, and other employers looking for skilled laborers, an interest in these types of subjects is very important.
According to CNN, competitions like the Super Bowl of Robotics, the FIRST Robotics Championship, are starting to shift the tide of excitement. FIRST stands for "inspiration and recognition of science and technology," and was founded by serial inventor Dean Kamen in 1989. His goal was to inspire young people to be excited about the fields of science, technology, engineering, and math," and each april the Championship plays its part to do exactly that.
This April, more than 18,000 kids ages 6 to 18 traveled to St. Louis to participate in the "Ultimate Sport of the Mind." "I spent hours…I got cuts and bruises," said Tia Singh, a junior at Queens Vocational Tech and a member of the RoboTigers team. "I bled over this robot."
This type of passion is typical at a competition like this, where kids have spent six weeks building their robots. Each year, students must build a robot to complete a certain task, like shooting basketballs into hoops or throwing a frisbee. This year, their robots had to stack storage tubs and then top them off with a trash can. Kamen wants all children, not just those who have a particular penchant for science, to understand that they can become amateur robotists: "I think there's a perception that if you're really smart, you can do all this stuff," Kamen says. "No. You can do this if you're willing to work much harder than everyone else is willing to work." Kamen rewards the students with scholarships totaling $22.25 million available from providers like Boston University, Northeastern, and Raytheon.
There's a pretty long roster of programs that FIRST sponsors for students of all ages. The Junior First Lego League is for children ages 6-9, where children conduct research about a theme, build a LEGO model that contains both a simple machine and a motorized part, and display their findings on a Show Me poster. The FIRST Tech Challenge is for kids in grades 4-8, and students can join a team and learn how to build robots, learn computer programming and CAD, and compete against other teams at the local, regional, and national level.
So if you're a parent wondering how to get your child interested in a STEM career or a kid who wants to learn more, check out the types of opportunities available from FIRST to help make STEM not just an option, but an amazing and exciting learning experience.
—
photo credit: USFIRST.org