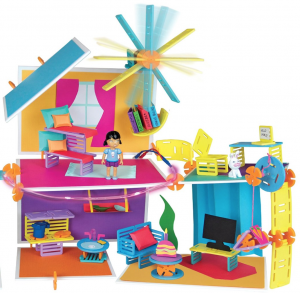 If you've ever wondered what to buy for the child (or teen, or adult) in your life, Amazon announced today that they're launching a new store on their massive site. The best part? It's dedicated to STEM toys and games.
This isn't the first time they've adapted their selling strategy to meet the changing needs of consumers and technology: Last year, Amazon was ahead of the curve and launched a shop specifically designed to sell 3D printed goods.
This was a major turning point for the sale of online goods, as TechCrunch explained, "it means the largest online retailer in the English-speaking world is endorsing a means of direct production and selling that could change how future products are conceived and planned. One-offs and small runs are much more affordable via 3D printing, so theoretically, the sky's the limit on the range of things customers could order, provided 3D printing technology keeps evolving."
The introduction of the STEM shop means essentially the same thing for STEM education: With means of retail substantial enough to support international demand, manufacturers can continue to create games and toys designed to inspire children with a love of STEM at a young age.
The new Amazon store walks customers through what STEM means and why the toys were specifically chosen. You can filter the toys by age range, editor's picks, or any of the categories: "Top Picks in Robots & Programming Toys," "Top Picks in Chemistry & Physics," "Top Picks in Biology" or "Top Picks in Circuit Toys," for example.
Here are some of our favorites in the new shop, and we're happy to see large-scale retailers getting on board with the necessity of STEM for kids of all ages.
Roominate: Roominate was designed by two female engineers from MIT and Stanford to inspire all kids, but specifically young girls, to be prepared for future success in STEM. The line of customizable wired building toys allows girls to build two-level structures, bunk beds, balconies, a house on wheels, and more. Add electrical circuits to enhance design and add fun elements like spinning windmills, lamps, and more. The toy will help develop spatial and fine motor skills, engage hands-on problem solving skills, boost self-confidence, and teach basic circuitry.
LightUp Edison Kit: Recommended for kids ages 5-15 years, the LightUp Edison Kit will help kids build projects that help them understand how the technology around them works. They can snap together magnetic circuit blocks, then pair with the LightUp learning app to learn new concepts and complete introductory projects. Kids can build flashlights, SOS beepers, and then upgrade to the Tesla Kit and build a burglar alarm, musical instrument, a TV remote, and more.
Candy Chemistry: Cooking and chemistry come together in this set of experiments: Discover why sugar crystallizes to make rock candy, find out more about the chemistry of gummy bears, learn about the mysterious phenomenon of triboluminescence with wintergreen candies, and more! It's taking physical science and making it real in a way that will keep kids' attention (and reward them with a sweet treat as they do!)
—
photo credit: Roominate Chateau via Amazon.com