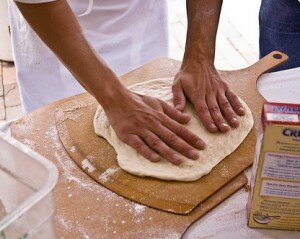 Have you heard of the National Restaurant Association Educational Foundation's ProStart program?
It's a nationwide career technical education program based around the real-life skills needed to work in the restaurant industry, whether in management, manufacturing, construction, or any of the other fields that feed into the restaurant industry.
In the program, high-school students learn from an industry-derived, competency-based curriculum that teaches culinary techniques and restaurant management skills, coupled with real-life restaurant sector experiences. And thanks to a Nebraska manufacturer, the ProStart program will be able to train Scottsbluff High School students.
Cambro Manufacturing Company kicked off the program by donating $1,000 necessary to purchase culinary equipment and supplies for the classrooms. "We can't thank Cambro enough for being an advocate for ProStart and providing top-of-the-line tools to develop local talent into tomorrow's restaurant and foodservice leaders," said Suzanne Myers, SHS Culinary Arts Instructor. "With Cambro's donation to Scottsbluff High, we can continue to exceed our goal of attracting, developing and retaining a career-oriented professional workforce for the restaurant industry."
If you're wondering just how necessary training students in technical skills needed for restaurant and foodservice employment is, you should know that this employment is projected to grow by a whopping 11 percent over the next ten years. Hence, the drive to ensure the development of a highly-trained, professional talent pool through scholarships and educational programs (particularly from associations like the Nebraska Restaurant Association). Currently, ProStart is taught in more than 1,600 schools to 118,000 students across America, Europe, and the Pacific. This is a major need and a huge area that students looking for employment can derive real use value from.
"ProStart is an incredibly valuable program that continues to grow, and Cambro is committed to investing in the people and programs that make up the future of the restaurant industry," said Greg Fischer, executive vice president, sales and marketing for Cambro Manufacturing Company. "We see how much ProStart students share our passion for and commitment to foodservice and want to continue to support them as they work toward achieving their goals of having a career in the restaurant and hospitality industry." Cambro Manufacturing, founded in 1951, works with food service in a variety of industries, from healthcare, to hospitality, to corrections, to schools and the military. Their product catalogue covers just about everything that you'd need for food service: Think shelving, food and salad bars, trays, dish racks, and more.
The other remarkable thing to note about Cambro is that children and grandchildren of some of their first employees are with the company still today; they care about investing in their workers. They also constantly work on investing in new tooling and leading-edge machinery to better manufacture their products, and improve their manufacturing methods for optimal efficiency.
To learn more about the Cambro Story, click here. Manufacturers that give back in order to help the next generation succeed are important to some of the amazing work that's being done in Nebraska education, and we're proud to have them!