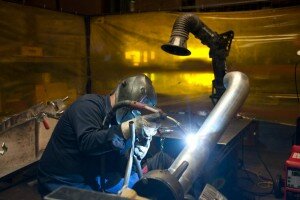 For the first time in their extensive history, Lincoln Industries is growing outside Nebraska. The company, formerly known as Lincoln Plating, was founded in 1952 by Dale LeBaron and has continued to be (hence the name) located in Nebraska ever since.
The small custom shop specializing in made-to-order solutions for consumers shifted to a regional organization working with customers throughout the Midwest. Sixty-three years after the company's founding, they're making moves to relocate geographically.
Last week, the metal-finishing company bought DS Manufacturing of Pine Island, Minnesota, one of their former suppliers that employs about 80 people. DS makes chrome exhaust parts for Harley-Davidson motorcycles, parts for all-terrain vehicles, and lawn equipment. And as Lincoln Industries makes chrome exhaust stacks and tubes for large trucks, as well as exhaust products for Harley-Davidson motorcycles, they'll be an ideal match. According to a press release from Lincoln Industries, DS Manufacturing will continue to operate as an independent business, and the owners of the company will remain as plant managers.
This merger is expected to be successful for both companies; co-owner Rich Breustedt told the Rochester Post-Bulletin he expects the company to grow 50% just this year. Tom Hane, president of Lincoln Industries, said in a press release that the expansion will increase market opportunities: "I am confident that Lincoln Industries will recognize significant strategic and economic benefit from this acquisition as we leverage the DS capabilities in small-diameter tube fabrication," he said.
Lincoln Industries has been named one of the 25 Best Medium Companies to Work for in America six times, and with good reason. They're a prime example of Midwestern, family-owned culture, and one of the reasons that Nebraskan companies have such a strong reputation for being great places to work. Their company culture values developing talented individuals, focusing on wellness, ensuring safety, maintaining open communication, recognizing excellence, and making community connections. Another interesting aspect of their company culture is the emphasis on wellness. They believe that happier, healthier workers is a way of investing in the company: "As an organization, we have set ourselves apart from other manufacturing companies in a number of ways. Perhaps most important are our commitment to the wellness of Lincoln Industries' people, and our efforts to create a strong culture of caring. We firmly believe that a happy, healthier workforce creates a better end product."
As such, their wellness program, go! Platinum, enables employees to participate at four levels based on metabolic screen results and participation in wellness events. Those who reach platinum status are eligible for a company-paid trip to Colorado to climb a 14,000 foot mountain! This results in lower worker turnover, lower absenteeism, higher quality and lower healthcare costs. Workers also report that the program helps them better care for themselves and their families.
With a company culture like this, it's no surprise that the company is expanding and thriving across the entire Midwest. To learn more about the company or careers, contact Lincoln Industries or leave a comment in the section below!
—
photo credit: Tube fabrication via LincolnIndustries.com