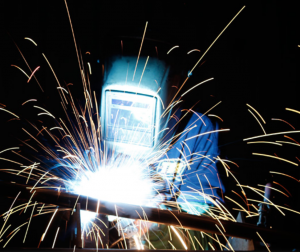 Roland Temme of TMCO, Inc. has three simple tips for success: Hire good people, buy good machines, and serve good customers. To us that sounds like a truly Nebraskan way of looking at business, where it's important not just to make bucket loads of money, but to make sure that the integrity of your business is never compromised in the meantime.
For Temme, this has worked out quite well thus far, resulting in $40 million in sales for TMCO, Inc. in 2014. As Temme told DailyFinance, "If you go to a good restaurant that makes the best pie in Lincoln, I guarantee you everyone is going to know that place. And you know what happens? There's a line of people waiting to get in. That's the way we do business too, or that's the way we want it to be."
Total Manufacturing Company, Inc. was founded by Temme in 1974 in Lincoln, Nebraska, with just a metal shed and $6,000 worth of new and used equipment. Along with his job as an employee making cassette-tape duplication machines (working 18 hour-days), the farm boy from Wayne, Nebraska worked his hardest to turn the machine shop into the successful, multi-block facility it is today. Right in downtown Lincoln, the TMCO facilities are home to millions and millions of dollars worth of high-tech laser-cutting, laser-punching, grinding, and milling machines, along with robotic welders that help make TMCO a global manufacturing player.
Currently, TMCO employs about 250 employees, and maintains the stance that these motivated people are absolutely essential to the company's success– no fans of automation over here. "When you hire the best people and give them the best machines, it's almost impossible to fail," says Temme.
It's a classic rags-to-riches story. A manufacturing company starts out small with just a few people, and manages to succeed to the point that the metal fabrication makers have contracts with companies like Harley-Davidson Motorcycles and American Meter Co. How did Temme do it? How can manufacturers dream big and hope to achieve in a manner like this?
It all goes back to Temme's original tips, which we think apply to not only TMCO, but the majority of manufacturers in the state of Nebraska (many of whom are experiencing unprecedented growth). Hire good people is the first check on the list, and that's something we see happening frequently in the state. It's a great place to be for anyone hoping to receive a great education, or find an awesome job– there are employers out there looking for passionate, hardworking employees. Manufacturing isn't just a field for those who like slacking– sure, there are still assembly jobs, but many skilled positions require interpersonal skills and true dedication.
Temme is an example of how great people, a commitment to quality, and expertise in customer service can define success. For all companies in Nebraska, and across America for that matter, it's a glimpse into the future of manufacturing and those who serve it.
Questions? Comments? Want to learn more? Leave a comment below!
—
photo credit: TMCOInc.com