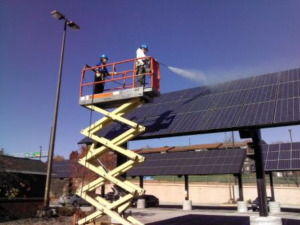 Happy Friday, and welcome to the latest of our educational program spotlights! There are some amazing manufacturers in Nebraska, but there are also programs that do an absolutely outstanding job of preparing skilled workers for manufacturing, engineering, science, and math fields.
We highlight plenty of community and technical colleges on the blog, but there are also programs for students looking at opportunities in four-year universities.
One of these hotspots for a four-year degree is Creighton University, located in Omaha and familiar to many Nebraskans. We've highlighted Creighton before on the blog as a great place to receive an education, but today, we'll specifically discuss the sustainable energy and sustainable energy science programs. Sustainability is a huge buzzword in manufacturing right now, and issues of how to manufacture and produce in the most sustainable manner are top of mind for many businesses, large and small. There are two degrees available for those interested in resolving and working in the field of sustainable energy at Creighton.
Sustainable Energy (Bachelor of Arts): This degree is a great option for anyone interested, as aforementioned in sustainability, energy policy, and law. In the manufacturing industry, these types of jobs are generally available for companies interested in learning how to produce in eco-friendly ways, improve their manufacturing processes, and especially companies that produce products designed for sustainability, like windmills or solar panels. Creighton also offers a minor in this for those who hope to supplement their education.
This program is nontraditional, meaning that sustainable energy students don't simply sit through lectures for four years. Instead, the curriculum will include activities like using an atomic force microscope in history class, applying physics to real world situations, and working in a hands-on environment with internships and group projects. Additionally, the program uses Nebraska's largest solar array as an outdoor classroom (if you enjoy being outdoors, this will be a great fit for you). The outcome of this type of study is a graduating class with 96% of students being employed, enrolling in graduate school, or volunteering in their field within six months of graduation!
Sustainable Energy Science (Bachelor of Science): Jobs in the energy sector have been increasing 26% per year, with graduates finding jobs in sustainable design, building systems, and renewable energy. This type of degree is also an outstanding way to prepare for graduate school in engineering, or future careers in manufacturing, civil, or mechanical engineering.
If you're working through a Sustainable Energy Science B.S, you'll take courses like Environment and Society: Sociological Perspectives, Introduction to Solar Energy, Modeling Electrical Load and Yield, and Energy Science, as well as completing internships as part of your study. The energy science program helps students find internships, including paid internships in building management systems, information technology, and public administration, among others.
To learn more about these programs, including student organizations that you can be a part of and general information about the school, check out the Creighton website. With questions, comments, or help getting in touch with the department, send us a tweet or leave a comment in the section below!
—
photo credit: Creighton students at the Outdoor Solar Classroom via Creighton.edu