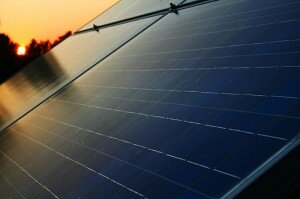 Whether it's wind power or solar power, the importance of sustainable energy is becoming more and more important not only to manufacturing, but to the entire world. It's difficult to ignore the reality that our world does not have unlimited power and oil and gas, and there have to be other options ready to take their place as our oil stores run low.
Some of the most innovative workers in the eco-friendly development world are those concerned with production, both manufacturing and agriculture. Here in Nebraska, both manufacturing and agriculture are key components in our economy–so it makes sense that our willingness to experiment with new and more sustainable options is fairly advanced.
In Lindsay, Nebraska, brothers Mike and Terry Beller of the Beller Feedlot are pioneering electricity production in their area, reported the Omaha World-Herald on Friday. A partnership with Omaha-based Solar Heat & Electric installed 100 solar panels at a site near an irrigation well–and to date, this has produced more than 40 megawatts of electricity. Solar Heat & Electric specializes in projects like this, with installations and design to make homes and businesses more efficient through solar panels.
Most people are aware of the drain on electricity in July and August to power those fans and air-conditioning, but farmers are the ones thinking about the incredible amount of electricity needed to pump their irrigation wells and provide water across the acres of farmland. "We have a pretty significant electrified irrigation load across the state," said Dave Rich, sustainable energy manager at the Nebraska Public Power District. "About 40 percent of the irrigation load across the state is served electrically," Rich told the World-Herald.
The Bellers worked with Lindsay Corporation to install the solar panels and make their irrigation pivot project happen, with a $17,000 grant from the U.S. Department of Agriculture's Rural Energy for America program. The ideal goal for all parties involved was to produce enough energy to offset the costs and hopefully be even more productive during summer months when electricity costs are at an all time high. And so far–it looks like it's working.
According to Michael Beller, the family paid for about half the costs of the installation and are still working to break even. After about one year of having the panels on the farm, the solar panels had finally fed more energy in the meter than had petered out, so the Bellers received their first check from Loup Power District, reported OWH staff writer Cole Epley. "We're looking at a return on investment of about five or six years, and it's all gravy after that," said Michael Beller.
As projects like this continue to be produced in Nebraska, each one symbolizes a step towards sustainable energy and economic growth in a time that's challenging the agricultural and manufacturing fields. With solar power as a factor in other Nebraskan production, we'll be a step ahead of the game. It's an exciting time to be in manufacturing and sustainability research!
Questions? Comments about solar power and manufacturing? Send us a tweet or comment anytime, we'd love to chat!
—
photo credit: Pink Dispatcher via photopin cc