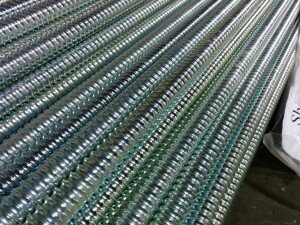 This post is part of an ongoing series of manufacturer profiles. The blogs will cover some of the many names in manufacturing in the state of Nebraska. Check back later for more posts in the series. To see previous posts in the series, click here.
Most Nebraskans are pretty familiar with either Village Pointe Shopping Center, TD Ameritrade Park, or the Bob Kerrey Pedestrian Bridge between Omaha and Council Bluffs, Iowa. Well, today we're spotlighting one of the companies that made all three of those destinations possible: TSA Manufacturing.
We already know that there are hundreds of incredible manufacturing companies in Nebraska that produce everything from irrigation systems to chairs to needles to food–our state is pretty lucky to have a thriving manufacturing industry to supplement our economy. TSA Manufacturing produces "creative steel products" used in assembly in production.
For example, you've probably seen the TSA Manufacturing products when you're picking up some cute new clothes at the open-air Village Pointe Shopping Center, even if you don't quite notice them. The tie rod assemblies, anchor bolts, weld studs, and other construction fasteners that are holding the buildings together are all from TSA. At the home of the NCAA Men's College World Series, TD Ameritrade Park, TSA supplied the anchor bolts, weld studs, structural fasteners, and air and vapor barriers. And over at the Bob Kerrey Pedestrian Bridge, TSA fasteners and bolts hold it up and are part of what make the pedestrian bridge so fantastic.
TSA was founded in a small shop in 1973, and has grown to a 60,000 foot manufacturing facility in Southwest Omaha. The company primarily focuses on custom or made-to-order products, but also stocks pre-made products always ready for delivery. Customers love them for their ability to handle a wide variety of jobs thanks to their knowledgeable staff and tools.
J bolts, U bolts both square and round, anchor bolts, eye bolts, threaded studs, full threaded bar in standard, acme, or coil, studs, wire formed products, and more! These terms might not mean much to the average layman, but for builders and contractors, it's kind of like walking into a gold mine. They also stock nuts, washers, stud welding equipment, and much more. If you don't see it, all you have to do is ask and the team will help figure out how to solve your needs.
TSA Manufacturing also offers tours of the manufacturing facility to students or anyone interested in the products they have to offer. To learn more, visit their website and contact them by email or phone.
We're always happy to shine the spotlight on another fantastic Nebraskan manufacturer. If you have a suggestion for who to feature next in our Manufacturers in Nebraska series, feel free to leave a comment in the section below or email us anytime!
—
Photo credit: TSA Manufacturing