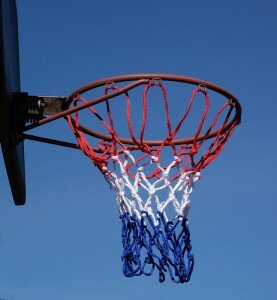 This post is part of an ongoing series of manufacturer profiles. The blogs will cover some of the many names in manufacturing in the state of Nebraska. Check back later for more posts in the series. To see previous posts in the series, click here.
Nebraska Cornhusker Football season, intramural leagues, community children's leagues, or simply a game of pickup backyard basketball: What do all of these have in common? They've most likely had something provided by Bison Inc., a Nebraska sports equipment manufacturer that's been in business since 1985.
First known as a basketball equipment supplier, the company has since expanded to provide equipment for soccer, football, volleyball, and more to their customers in Nebraska and across the country. This includes everything from the basic hoops and goals to little parts like goal mounts, backboards, and nets.
If you've ever had the joy of kicking around a soccer ball or shooting hoops with your friends, you know firsthand how important having a durable, reliable product is. Bison prides itself on having "institutional-quality equipment" for families and teams that need products to last more than one season. Both durable and on-time, athletic directors, coaches, facility administrators, and equipment managers have used Bison to provide everything from goals to balls and cones, for running their sport effectively (and of course, having fun!)
Something that we really love about Bison is that they're located in Lincoln, Nebraska– and that's where their products are made too. Their warehouse and manufacturing space covers over 100,000 square feet and just about every order is shipped from available inventory. The company employs over 100 Americans instead of sending their business offshore to have everything shipped in from foreign manufacturers. Their products are Nebraska-made– something we can always stand behind.
This may have something to do with the fact that Bison has been privately owned since day one. The founders of the original family company are even onsite to share knowledge and ownership. They are always open to improving their products and making sure that they're up to date on all safety regulations and concerns—they are happy to talk about what's safe and what the best practices for their equipment, and all sporting equipment.
This company is truly one-of-a-kind and we're so proud that they are located and manufacture right here in Nebraska! If you're in the market for a basketball hoop or any other recreational sporting equipment product, take a look at the lineup from Bison to support one of our American-made and owned businesses. If you're interested in sports as well as manufacturing, it might be worth it to take a tour or learn a little more about the company. Send an email to any of their sales managers or staff, and leave a comment in the section below if there is any way we can help!
—
photo credit: judy_and_ed via photopin cc