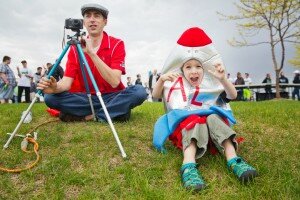 At the beginning of 2014, we recapped a few goals for manufacturing students (and all students, really) to sharpen their STEM skills. It's critical to strengthen abilities in science, technology, engineering, and math to pursue a future in a skilled trade or manufacturing industry, and what better time to do so than when you are a student?
2014 continues to be an exciting year for manufacturing in general, and there are exciting developments happening especially here in Nebraska.
Some great ideas for improving your STEM skills include landing an internship, joining a STEM-related club in school, or finding a mentor to guide you through learning more about a particular career or field. And in the Omaha World-Herald last week, reporter Julie Anderson covered the growing demand for students with great STEM skills. Schools, clubs, and organizations across the state are responding to this demand with more opportunities than ever for anyone who wants to learn and be involved in these dynamic careers.
After a strenuous year of school, learning more over the summer might seem like the last thing students want to do. However, during the free days of summer, there's no better time to spend an hour or two learning inside and outside the classroom. Here are a few ways to enjoy the season while putting in a few hours towards your successful future.
STEM at school: Yes, we said it: back to school! Districts such as Lewis Central have been working toward expanding summer offerings for those interested in STEM skills, and embedding this type of training for skilled careers in math and science classes. Even programs such as 'Future City', which allow students to apply STEM-related skills to the creative process of designing and creating models for futuristic transportation, are available, and students can begin working on next year's project over lazy days of summer. Find out if your school has programs available for you to experience, or even contests and projects that might require a bit of a head start.
Take a tour: We rounded up the best factory tours in Nebraska, including some great (and free!) opportunities to learn at places in our home state. From Kawasaki to Hornady Manufacturing, there are incredible products designed and manufactured right here in our backyard. The more you learn about how things are made and the people that make them, the easier it becomes to understand more complicated engineering and physical processes. If you don't have access to a car or can't quite make the trip, here are 5 awesome videos of a manufacturing at work.
Go online: The Internet is a pretty amazing place. There are plenty of free websites and games that will be fun and a great learning experience to ensure that when you return to school, you won't have the midsummer slump that can so easily happen! Try AAA Math for arithmetic and math practice in a variety of areas, free online science games at Sheppard Software, or build bridges and energy conductors with Engineering Games.
Want to learn more about any of these opportunities? Get in touch on social media and let us know—we'd love to help!
—
Photo credit: Omaha World-Herald