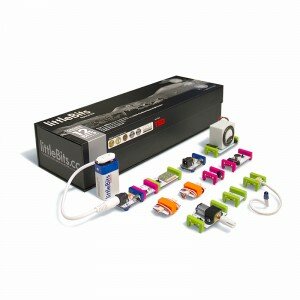 Here on our blog, we're no strangers to fun technology for getting kids interested in STEM education. But something we found recently may take the cake as some of the coolest tech we've seen to date.
As the article in TIME asks, "What if experimenting with electronics was more like playing with LEGO?" That's exactly the point of LittleBits, "a system of modules such as motors, displays, sensors and buzzers." The modules snap together with magnets, and allow users to build circuits and other engineering-related projects.
While LittleBits have been around for a little while now, their space kit is new. LittleBits and NASA teamed up to collaborate, producing a kit that even the least experienced in STEM of kids can enjoy. The best part? This kit allows you to produce DIY versions of devices and technologies used by real astronauts on the International Space Station and beyond.
TIME compares LittleBits to LEGO, noting that "it's all very well to piece together LittleBits projects using the supplied plans," with a similar value proposition to LEGO: you can either build sets using the included instructions, or you can build your own projects using the vast variety of parts that come along with the original kit. From space helmets to baby strollers, the options really are endless with toys like these.
Are LittleBits the key to unlocking the next generation of American manufacturers? Maybe not–but it certainly doesn't hurt to have neat toys like these helping get younger kids (and even adults!) much more interested in science, technology, engineering, and math.
Check out the video featuring LittleBits' NASA kit below, and let us know what you think. We love to see uses like these that enable novices to get their feet wet with some of the world's coolest technology!
—
Photo credit: LittleBits via TIME