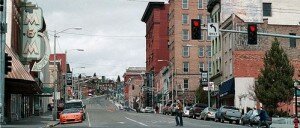 Here at NeMAC, we've been keeping you updated on the many manufacturing hubs set up in different cities across the country.
Back in February, President Obama announced two new hubs in Chicago and Detroit. And today, Butte-Silver Bow, Montana, is trying to add its name into the contending cities for the next hub.
According to The Montana Standard, the Montana town "has formalized its bid for a federally funded manufacturing hub that could draw tens of millions of dollars in public and private investments."
There are dozens of United States cities trying to be home to one of the fifteen National Network Innovation Centers across the country.
President Obama has already selected cities like Chicago, Detroit and Youngstown, Ohio. The goal of the initiative set up by the Obama administration is to close the gap between research, technology, and development that drives the domestic manufacturing companies.
To be a contender for the manufacturing hub, the Butte-Silver Bow government teamed up with Butte Local Development Corp. and Montana Tech.
Through the application proposal, Butte-Silver Bow focused on their state's strength – "manufacturing and industrial sectors involved with developing natural resources."
As The Montana Standard continues to note, there is criteria for eligibility for the program, which include ranking "in the top third in the nation under defined industrial clusters."
A proposal executive went on to explain why Montana should be a top contender for the new hub: "Our approach will take advantage of Montana's world-class supplies of vital materials/minerals needed for production of U.S. goods, as well as critical materials needed for manufacturing of strategic products required for U.S. national security."
Montana's use of energy–ranging from oil, gas, coal and renewables–should lift them to top ranks, as well, because it creates affordable energy needed to maintain the U.S. manufacturing.
As mentioned in other NeMAC articles, in 2012 President Obama proposed public-private manufacturing hubs and asked for Congress to distribute $1 billion to open these hubs.
Last September, Butte-Silver Bow received a $200,000 federal grant to prepare its proposal.
The Montana city has quite a backing through. If chosen for a hub, partners would include Montana Department of Commerce, U.S. Commercial Services, Montana University System, Idaho National Laboratory, Montana Manufacturing Extension Center, Montana Economic Development Association and NorthWestern Energy.
The proposal from Butte-Silver Bow shows that the town would improve the industrial sector by "workforce training, infrastructure development, research and innovation and access to capital, among other things."
Butte-Silver Bow Chief Executive Matt Vincent said that the city will "define [themselves] as a much larger area than most other proposals. That's because we are the fourth-largest state and one of the most rural states … and you have to include all the areas our natural resources are found."
With cities like Butte-Silver Bow making their bids to be a part of this new national manufacturing program, it's clear that manufacturing interest around the country is high. Our only question is, which city will be next?
—
Photo credit: Montana Department of Transportation