Remember all that growth in manufacturing we've been talking about recently?
Well, it's happening as much right here in Nebraska as it is in the rest of the country. Ariens Company, which is based in Wisconsin but which has a facility in Auburn, Nebraska (south of Nebraska City), is hosting a hiring fair on-site next Thursday, April 24, 2014.
The story leading up to this hiring fair–Ariens is looking to hire for 30 positions–is pretty remarkable. There's been a 53% increase in sales since 2010, and as a result, Ariens is reorganizing a bit and moving production of some of their residential mowing products to their facility in Auburn. With almost $1 million invested in the facility, this represents an almost 75% increase in production in the last year. Talk about growth!
To help scale up with this massive growth at the Auburn facility, Ariens is hosting this hiring fair on-site to hire 30 new employees, adding on to their current staff of 225 people. From assemblers, to forklift operators, to welders and machinists, Ariens is hiring for all sorts of specialties and areas.
Ariens is a great American company, and anyone who is hired through this fair will have access to cutting-edge equipment. In the last 3 years, Ariens has added new lasers, machining centers, robots, press brakes, assembly areas, and a geothermal HVAC system. Needless to say, Ariens' Auburn facility would be a great place to work, and we're always glad to see Nebraska companies growing and evolving.
Want more information about the hiring fair? Go to the Ariens career page (you have to register for the hiring fair prior to attending) and take a look, or see the flyer below. And of course, if you have any questions, feel free to reach out to us on Facebook or Twitter!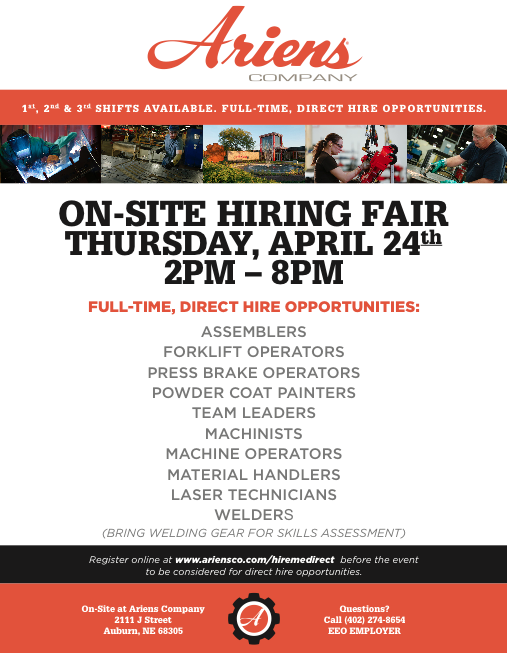 —
Photo credit: Ariens Company