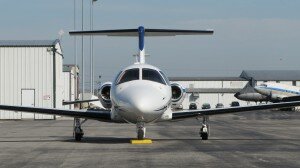 When considering manufacturing, many people think of typical goods like clothing and food. But manufacturing doesn't just mean boring old household goods—it can also mean exhilarating new technology and awesome equipment.
As one manufacturing operation in Albuquerque, New Mexico shows, American-made goods span from clothes all the way to jets that are made in the U.S.A.
Eclipse Aerospace is an American aircraft manufacturer that focuses on the maintenance and upgrade of aircrafts. Eclipse broke new ground on March 12 when they delivered their first Eclipse 550 Jet to a customer. And as KQRE notes, this was a huge step for Eclipse after the company's certification by the FAA.
The company announced that they would be manufacturing the 500 Jet in June of 2012. The Eclipse 550 Jet is a low-wing, six-seat business jet much like the previous Eclipse 500.
The 550 Jet is said to be the most fuel-efficient small jet with a top speed of 430 miles per hour at an altitude of 41,000 feet. What also makes it a little more unique is that the safety features and technology are similar to those in commercial aircrafts.
Eclipse Aerospace says that consumers' interest in the jet is rising, thankfully, while the cost is settled at around $2.9 million.
The new owner of the Eclipse 550, Fred Phillips of Louisiana, said that he was "attracted to and ended up owning an Eclipse because it was the best plane for [him], but a lot of people have issues with the size." The 550 is a small-sized jet, only a little larger than a full-sized SUV.
A few years back in 2008, Eclipse Aviation, the former company, filed for bankruptcy and laid off workers. So the CEO of Eclipse Aerospace said that this new release was a big step in the right direction.
But this isn't just a big step for the company individually. The production and manufacturing of this jet will have a huge, positive impact on Albuquerque and the manufacturing community at large.
While Eclipse Aerospace is looking towards the future within their own company–making newer and better jets–the manufacturing of the Eclipse 550 sets a promising standard for other, similar companies across the nation.
If a company that creates six-seat, small jets can create nearly 100 new jobs, then imagine a factory that starts to manufacture something bigger. The hundreds of jobs that could be created will further the already impressive manufacturing world here in the U.S.
From clothes to jets like the one recently made by Eclipse Aerospace, the span of goods made here in the United States is incredible, and all of the goods and products made here in the U.S. positively impact the local economy. At this point, the real question is: why not get involved in the great American manufacturing community?
—
Photo credit: The Aero Experience